Laboratory water plants are compact systems that provide ultrapure (Stage 1), pure (Stage 2), and reverse osmosis (RO) water for specific laboratory needs. The water quality complies with ISO 3696 standards and corresponds with ASTM and CLSI standards. 
The systems are easy to install by the user and also cartridges and filters are easily replaceable.
These water purification systems can be installed either on a laboratory table or on a wall.
The integrated recirculation circuit ensures stable water quality and allows the removal of total organic carbon (TOC).
The performance of deionization and polishing modules is constantly monitored and the end of their life is signaled. The stability of water quality is guaranteed by a double system of modules - deionization and polishing.
Thanks to them, high water quality is guaranteed even if one of the modules is currently waiting to be replaced.
The user can verify the water quality sensors directly at the treatment plant (depending on the model configuration). It is also possible to measure the conductivity in the individual circuits and check that they work properly.
Mentioned options help the customer to verify the water quality regularly. Therefore, no visit to a service technician is required. A calibrated portable conductivity meter can be used for a complete water quality sensor test at a water treatment plant.
Organic contaminants may not have an effect on water conductivity, so conductivity sensors can not be used to monitor total organic carbon. A special monitoring module is therefore required to measure the TOC level. Several water treatment plant models have a TOC monitoring function. The values ​​are shown on the display.
The displays provide data about clean water and information about system status, including current resistance and remaining pre-filter life.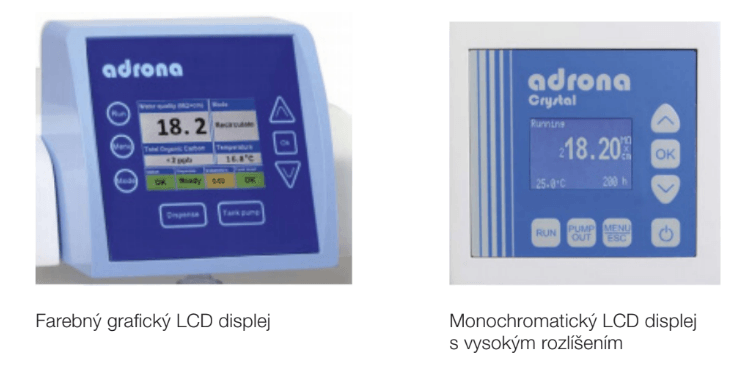 The 16-bit color display provides clear data about water quality, system status and polishing module performance. The system status is indicated on the display by colors (green / yellow / red).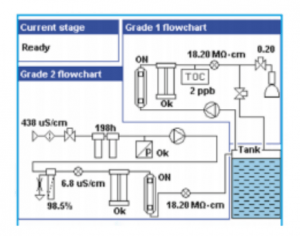 Image diagram of the system displays the status of all components and parameters of the water quality. The image may differ depending on the model and its configuration.